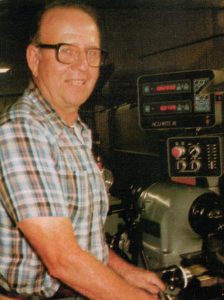 Land Specialties began in the Land family basement in 1959. We are still a family owned company, manufacturing in a 16,000ft² facility in the Kansas City metro area. We have provided over 58 years of quality service, shipping products to six continents.
Gene Land had over sixty years of manufacturing experience and worked up until his passing in February 2015. His son-in-law Keith Rogers has over 45 years with the company, and has taken over for Gene. Several other employees have been with the company for 30+ years.
Gene and Keith have always tried to serve their customers as they would God, with Ephesians 6:7 in mind: "Serve wholeheartedly, as if you were serving the Lord, not men." The company's motto has always been 'Good Work at a Fair Price on Time'.